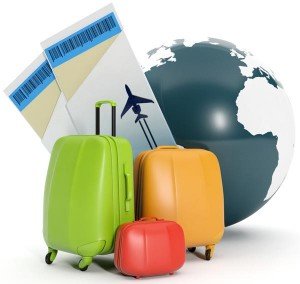 Here sitting at my desk on a grey and foggy Danish morning while taking one for the team as my wife finishes her thesis, I'm purchasing flight tickets to Brazil.
As I look through the jungle of fare prices and restrictions, the same feelings and thoughts that once raced through my mind and body during the original days of planning our move to Brazil, have come again.
Though, for us this isn't something new, we are used to almost robotically going through the steps required to prepare for a big move and it's as if everything falls into place on it's own.
Still, I can't help but think about the 1000's of questions people ask me about moving to and living in Brazil and having been there and done that myself, it's time to put some at rest…
1000's sounds like a jungle of information to navigate through, though in reality this flattering amount of e-mails and messages can be divided into 3 categories:
Preparing for the Move
Executing the Move
Establishing a Life in Brazil
And since getting this "aha" revelation during these last few days, it has inspired me to do something that will cost me…
I have decided to recreated the outdated Golden Ticket To Brazil video series from the ground up and address these 3 categories head on!
Let me give you an idea of these 3 categories and what they mean.
1. Preparing for the Move
Maybe you once visited or lived in Brazil or just have heard amazing things that have made you want to move there?
Either way, it all starts with considering the move in our minds (and hearts) and leads to taking action based on that consideration.
This is definitely the biggest hurdle keeping us at bay as most of us have no clue about how to approach the idea of moving to a whole new country: what's step 1 and what are the necessary steps involved?
My personal journey has led me to moving to Brazil as a single volunteer and later on a family man with children, in all honesty, these two situations are similar yet worlds apart in many different ways.
As a single person
One single man on the park bench prowl (internal joke) is Josh Plotkin over at , he reminds me of those younger and free-er days when all that mattered was how much adventure you could embark on.
When single and preparing for the move, it's pretty easy (especially if you're younger). You only have yourself to think about and heck, you could live in the middle of a Favela if you wanted to! (Which Josh does too btw 😉 ).
Visa issues are much simpler, traveling is light with just a back pack and you can easily adapt and just throw yourself into the mix with nothing holding you back.
Come a wife (or partner), throw some children into the mix and it's a whole different realm of planning to get to Brazil. We're talking about throwing a hiking backpack out and replacing it with 7 pieces of luggage (no-joke, this is how many we brought on our move!).
As a Family
As a family you've got a lot more on your plate to think about and consider as you are definitely the most vulnerable to outside complications.
Personally, when planning our return to Brazil there was a lot to consider as a family:
Where would our children go to school?
What about health insurance?
How about Visas for us all?
How can I support my family?
What things do we need to move with us?
What's the best way to fly?
How do I motivate my partner for the move?
What do I do about the cultural shock for my family?
Where's the safest and best place for us?
And much more…
In the end -whether you are a family or just a single person on the prowl – there is still a lot of planning and preparation involved in moving to Brazil.
Though after setting up the plan, goals and milestones, the next part is executing the actual move itself – or knocking it out of the park.
2. Executing the Move
During this phase, we've got a general sense of where it is we want to move to, how we are going to do it and are actually making the move happen.
This basically means that you've navigated the visa jungle and have it in hands (or prepared for) – having conquered the first major hurdle.
And it also means that you've figured out what you will do to make a living in Brazil too – be it a corporate job, a business venture or teaching English.
It then entails putting your life in motion by having that moving sale, packing the necessary, saying your goodbye's and boarding that long flight.
After your flight has landed in Brazil, you then are pretty sure of the next steps and where you will be heading to (and how to get there).
This is usually when the physical prospecting happens as you arrive to the city you've been researching and looking into some time in order to see if it really is the fit for you or your family.
Once you've made the decision to live in said city, it's time to move onto the next step and establish yourself into your new country.
3. Establishing a Life in Brazil
This is by far the most challenging part of the relocation process as it's where you deal with a whole new world of difference and encounter things you've never seen or heard of before.
First off you have the language to adapt to: . A very tiny fraction of the Brazilian population can speak English and finding any important information that you need can be painstaking – this is honestly the whole reason around creating this blog!
Then you have bureaucracy, which makes things tough to get done and requires a special mindset as well as drive to deal with.
Though getting on a completely practical level, you'll need things like: CPF numbers, proof or residence, a Bank account, to rent/buy a house, practical items, internet, telephone numbers, utilities, doctors, dentists, good supermarkets, transportation, dealing with taxes, TV, friendships, networking, outside help, dealing with cultural differences and more – just to name a few.
These crucial and practical things are what make it and break it for your success in Brazil and are usually the most difficult to confront for someone who has yet to be shown "the way".
What's in the Works…
This is why I've decided to sit down and throw the current Golden Ticket to Brazil out and replace it with something much more vibrant, relevant and extremely useful!
It will be released next week and if you are ready to be walked through these three areas, then all you have to do is place your name and e-mail below to get notified of when the 1st video is available.
Put your e-mail here:
Looking forward to seeing you on the other side!
Até logo,
Kevin
P.S. this new video series is seriously going to be fantastic as it is based on 1000's of questions our community has asked, so put your name and e-mail in the box above!