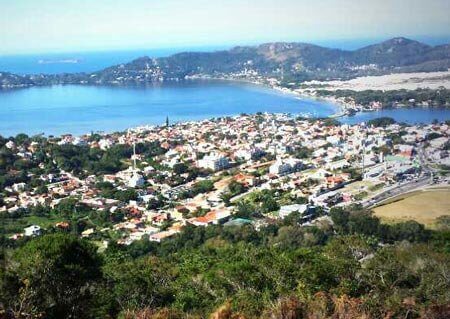 This is a continuation of 3 Reasons to Live in Florianópolis, Brazil from Monday.

Anyone who knows me understands that I love living on the "Ilha da Mágia" (The Magical Island). So much in fact that my daughter is able to call herself a native "Manézinha da Ilha" – a title reserved for people born on the island paradise.
When looking at Florianopolis, the first thing we notice is that it's big, about 45km from north to south (roughly 30 miles) and has a lot of diversity!
You have the über rich city called "Jurerê Internacional" to the vibrant "Lagoa da Conceição" and everything between.
So what are the different areas of the island like and what would you find infrastructure and housing wise?
This is exactly what you will be getting today – but first an overview of the island:
Here is an overview of the island to give you a general idea of the different cities, where they are located:
(Watch )
Let's move onto some more specifics now and get our hands dirty

Jurerê Internacional: Brazil's Beverly Hills
Let's start off with Florianópolis (Floripa: slang) "crem de la crem" or what is locally referred to Brazil's Beverly Hills.
The minute you enter into this city, the first thing you notice is that there are no walls whatsoever around these mansions! "But wait, there must be an electric fence system around the community like in Alphaville, São Paulo?" Nope!
One of the first rules of this community is that no walls of any type are allowed, period.
If you stood in Beverly Hills and were blindfolded all the way to and then had the blindfold removed, you would think that you were in some other (maybe better) subdivision of Beverly Hills itself…
This place is amazing with pristine beaches, no crime, amazing shopping, world class restaurants and amazing living.
(Watch )
As you can see, this is a whole different world in terms of quality of life and there is one draw back to living here (despite it being a bit pricey): it dies down in the cold season and the streets get pretty vacant, though in the hotter months it is a vibrant place to be.
Florianopólis Centro: World Class City Dwelling
The next part of our tour brings us to the first city you encounter after crossing the bridge over to the island: o centro (city center).
You will notice a huge increase in quality of life in the city center compared to that of the continental city side before crossing over. You have everything from the old colonial city which has amazing shopping and really wonderful walking streets (no cars allowed), high quality apartments, biking lanes, a great selection of stores and more.
When walking through some of the newer areas of the city center, you could easily be confused that you are in Brazil and not some 1st world city.
(Watch )
This is a great place for someone who wants to be close to everything as it's got the options of a large city yet the quality and security of a smaller one.
Ingleses: Affordable Middle-class Living
Ingleses, or as it's commonly known "a praia dos Ingleses", is located in the N.E. part of the island and has developed into a city of substantial size.
This is a great win-win area for those who don't need regular access to Floripa's city center, love beaches but need a lower cost of living in general.
There are a lot of surfer communities, families and some really well laid out and cheap areas! In the south part of Ingleses, you can rent a really decent (and new) house for under r$1,000 per month (not even $400 a month USD).
(Watch )
You will enjoy this area if you don't have a high maintenance life, as it has a decent infrastructure though is far from big and speciality stores. It has enough infrastructure and the cost:benefit is good enough to outweigh some of the benefits of living close to the city center.
Lagoa da Conceição: Floripa's Pulse
Lagoa (as it's locally referred) is one of my favorite places on the island and one of the places I've called home, why? Due to the amazing people and year-round active life.
People are really down to earth here: they stop to let you cross the street (WHAT?), don't care about classicism, are super friendly and caring.
It is also the pulse of the island in that there is tons of night-life, great restaurants and cafés, wonderful shops, surf outlets and more. It's also known as being the island's cultural center as they have a large praza (square), where they hold everything from organic markets to concert events.
You have access to year-round active sports as the lake is renowned for it's kite-surfing, close world-class surfing and more.
(Watch )
The main drawback to this area is the price and beach traffic. Lagoa is on the path to some of Brazil's most amazing beaches and everyone drives through there on the way to and from, so you can have some insane traffic on warm weekends or the summer months (count on biking or being within walking distance to the city).
Campeche: Floripa´s Happy Medium
Lastly, there is the place called Campeche or "Praia do Campeche" (Campeche Beach).
This is a middle working class city as you are still within reach of jobs in the city center yet close to the beach. Campeche used to be a really great budget choice, though has in recent years grown insanely.
It is still a great choice if you would like to live cheaper than in Lagoa yet would still like a decent and pretty safe area.
(Watch )
So if you want to be in more close contact with the beach, nature though aren't willing to pay an arm and a leg in Lagoa, this may be the area for you!
Final Words
Hopefully this guide brought you value and motivated you to come to the other side and live in paradise.
Now it's your turn: what area did you like best and why?
Valeu!
Kevin
P.S. don't forget to sign up for my FREE video series below and get the foundation for a successful life in Brazil.