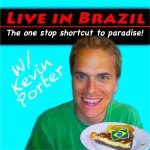 No matter what it is in life, there will always be nay-sayers looking to bring their situation and those around them down.
This is even more amplified when you make the leap to live in Brazil, there are some people who just are not willing to make things work…
…it usually manifests itself in the form of comparing things back home to those in Brazil and develops from there.
While many of us clearly understand that this is an apples to oranges comparison, this doesn't come without someone setting things in our community straight from time to time.
And today we have the enforcer himself in our midst: Mark Hillary.
He's written a fantastic book called Reality Check (that you should buy btw) that hits these complaints head on. His book is important to read as the things he addresses are common areas of concern that you have or will experience in Brazil.
This interview was a lot of fun to do and you will be amazed at the wisdom he has to throw your way.
In This Session You Will Discover
What Reality Check is
How the Job Market in Brazil is
How come Brazilians are paranoid about security
What keys there are to rebuilding your social life in Brazil
Items Mentioned in This Episode
– Mark's website
The new video series
Thanks!
I hope you enjoyed this episode of the Live in Brazil podcast and there is plenty more like this to come, make sure you to get the latest episodes delivered to you as they are released!
Help the Show
If you've enjoyed what you're listening to, then why not ? This will help the show out a great deal to get it in front of others who can benefit from it as well.
Thanks!
Questions or Feedback: Leave a Comment
If you have any questions or feedback, please leave a comment below and I'll see to addressing it on a future episode! Thanks for checking episode 12 out and look forward to plenty of more in the near future.
Cheers – valeu!
Kevin