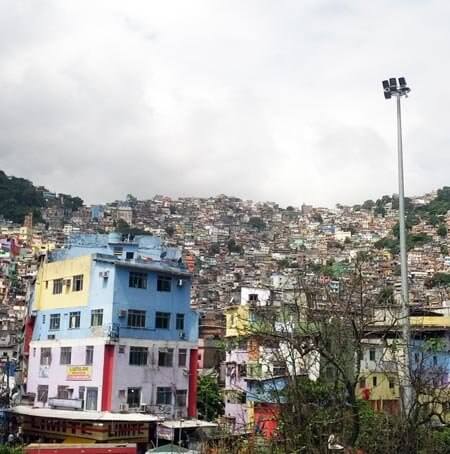 Ever consider living in a favela (slum)? Most people haven't due to the stereotypes of lacking safety etc given by national media.
Allow me to present you to someone who thinks otherwise and is here to convince you of the same. Elliot Rosenberg is a man who has decided to go against stereotypes and look at a favela for what it really is, he has gone to the extent of deciding to live in one and is here to give you 7 reasons why you should considering doing the same.
Take it away Elliot!
If you believe everything you see in the news and movies, then you'd never want to set foot in a favela, let alone live in a favela. However, the reality is unlike what you'd imagine, to the point that hundreds of gringos are touring favelas every day and hundreds more are living in them right now. I've lived in Rio and Latin America's largest favela, Rocinha, for three months now and know many foreigners who happily call the favelas their home. Definitely, there are challenges for both locals and gringos who live in these communities. Nonetheless, the favelas' welcoming culture, inexpensive prices, good locations, and more make them excellent options whether you're teaching English, studying on exchange, volunteering in non-profits, or starting a business. So, before you sign that year-long, R$2,000 monthly lease for a closet-sized cell in Copacabana, consider these reasons to live in a favela.
1. Vibrant Culture
Foreigners who come to the favela always try to articulate the amazing "vibe" or energy they feel here. You truly can't understand it without being here, but you'll sense it in the energetic funk carioca beats blasting from windows, the gusts of moto-taxis zipping past you, and the scent of churrasco smoke wafting from rooftop barbecues. The unique culture here pervades the music, food, dance, sports, and nightlife, and you'll come to realize the roots of so much of Brazilian national culture is in the favelas. If you come without any pretensions, you'll deeply appreciate the vibrancy of favela culture.
2. Affordable Prices
Compared with the exorbitant rents in the asfalto (formal city), the low cost to live in a favela might be the single greatest attraction for gringos. A small, unfurnished studio in the favela of Rocinha can rent for only R$350 Brazilian reals ($150 US dollars), and electricity and water might even be free! Even better, many owners in favelas don't require that tenants sign leases, and some don't even require deposits, so you're free to pay on a monthly basis if you're unsure of how long you're staying. The affordability doesn't stop at rents—delicious, favela food is at most half of what it costs in the cheapest restaurants everywhere else. My favorite lunch spot in Rocinha, Pensão do Vicente, has a variety of hearty meals for R$6.00 ($2.50 USD) prepared by Vicente, the friendliest grandpa and cook you'll ever meet. I can even feed my destructive açaí addiction for only R$3.75 ($1.50 USD) per 400 mL injection of purple, Amazonian bliss. Even then, if you're looking for more gourmet fare in favelas, visit some of the restaurants in the
3. Ample Business Opportunities
Because favelas have a long history of government and businesses neglecting them, there are many basic unmet needs here. And where there are problems, there are business opportunities, especially in a market so many corporations and entrepreneurs are scared to enter. Issues such as sanitation, recycling, technology proficiency, mobility, language instruction, and healthcare access are just some of the few begging for solutions. There are many examples of successful, favela businesses and even new ones that have disruptive potential. One such company is a tech startup called , which is developing a Linux-based smartphone operating system for the developing world, starting in Rio's favelas. Another is , a holding company for favela-based businesses founded by Celso Athayde, who also founded renowned non-profit . One of FHolding's first projects is , which will soon open in Complexo do Alemão and employ mostly community residents. Last, my business is seizing growing tourism interest in favelas to offer authentic room and apartment rentals for travelers in Rio's favelas while increasing the incomes of favela families.
4. Safety
This might be the most controversial reason of all. Though all favelas are different, I genuinely feel safer in Rocinha, particularly at night, than in Ipanema, Botafogo, and especially Lapa. Since Rocinha has non-stop activity in its main public spaces, such as along the main thoroughfare Estrada da Gávea, nothing bad will happen to you if you're respectful and have common sense. You'll feel a true sense of community here where everyone looks out for each other. Countless times even strangers have given me back money I overpaid, told me when I dropped something, or let me know when my backpack was open. In addition, many prominent favelas mostly in the South Zone now have new, 24/7 police called UPPs in advance of the World Cup and Olympics in Rio. While residents are divided over their opinion of the "pacifying" police, you won't see armed drug traffickers in the main areas of these favelas. Still, consider that most favelas aren't under police control, but that doesn't necessarily mean they're dangerous for foreigners.
5. Central Locations
Unlike other parts of the developing world where the poor are pushed to cities' geographic peripheries, Rio's 700-something favelas are physically intertwined into the urban fabric. That means that pretty much whatever area of the city you want to live in, you can almost definitely live in a favela there. And, yes, some favelas are only a few blocks from the beach! Even the exclusive South Zone neighborhoods of Copacabana, Leblon, São Conrado, and Botafogo have the favelas of Tabajaras, Vidigal, Rocinha, and Santa Marta, respectively. (Use this handy to locate which favelas are closest to where you want to be.) For example, the favela of Cantagalo is so close to the pricey apartments of Copacabana that you could even toss a paper airplane from the favela into your wealthy neighbors' open window and land it right in their bowl of caviar. (You're smart enough not to try that, though.)
6. Easy Transportation
Even if the favelas are on hillsides, they're not necessarily hard to get to. In Rocinha I can hop on a handful of bus lines passing through the middle of the community between Gávea and São Conrado. The complex of Cantagalo/Pavão/Pavãozinho has elevators that take you to the favelas from within the metro station. At the least, lots of favelas have public buses and vans that pass right by them. Moreover, favelas frequently depend on moto-taxis for intra-favela transport as these are by far the fastest and most convenient option. (Pro gringo tip: Your moto-taxi ride will be socially awkward if you hold onto your driver around the waist. There are little handle bars attached to the sides of the back seat for your gripping pleasure.)
7. Jaw-Dropping Views
There's a good reason favelas are colloquially referred to as morros. Many favelas are located on steep hillsides, where poor migrants began to settle over a century ago because of a lack of land and housing. Now, Rio is one of the only major cities in the world where the lower class has the best views. Oh, the irony! Developers and real estate speculators are just beginning to figure this out, and with government support they're and favelas. If you don't believe me about the views, check out what you'll peer out upon from that we rent to our guests.
Elliot Rosenberg is the founder of Favela Experience , which offers authentic room and apartment rentals for travelers in Rio de Janeiro's safe and fascinating favelas. Favela Experience's affordable Rio de Janeiro World Cup apartments are taking advantage of the World Cup to generate sustainable income for favela families while promoting the vibrancy of favela culture. Elliot lives in Rio de Janeiro but is originally from Los Angeles. You can follow his journey as a social entrepreneur in the favelas on his .