In this post, I'm going to give you an accurate depiction of what food in Brazil is like and give you tips on how to adapt to Brazilian cuisine if you are staying either short or long term.
When you picture Food in Brazil, do you smell sizzling, mouthwatering slabs of meat being bussed around a restaurant by smiling waiters, while you enjoy yourself in the presence of others and sip down a refreshing caipirinha?
Though this depiction is accurate, there is a different reality when you actually have to shop for your own food to cook in markets – it's a whole new world of cuisines.
I clearly remember my first time setting foot into a Brazilian super market; it felt like I had unlocked a new magic box…
Obviously there is no problem letting the cat out of the bag on this one, I love food!
So imagine the feeling of a food-lover walking into a new world of possibilities and food opportunities. It can both be exciting and frustrating.
Exciting due to the discovery of new food territory but frustrating due to the confusion of what is what and how expensive some things are.
This is fun until we've figured out what is what, then the shininess of it wears off.
Then the only thing that matters is that we can figure out what foods we can use and get to make life comfortable and pleasurable.
We Want Foods We Know
Everyone has their favorite foods, and usually it's a favorite food due to the emotional or sentimental attachment to it.
The first mistake we can make as a foreigner, is to expect to find what we are used to and believe is a common food in Brazil.
I could recount hundreds of instances when a foreigner says to me in a super market "don't they have peanut butter? (or insert food item here)"
To which my answer is, "If they had it, it would be very expensive due to the very few that would eat it and import taxes on it – but usually no, they don't".
The truth is that a foreigner in Brazil has a lot to learn when shopping for Brazilian food (as did I).
Brazilian cuisine 1: Typical Meals in Brazil
To give you an idea of the most common daily cuisine in Brazil, a middle class Brazilian family probably eats the following meals each day (obviously depending on what region they come from).
Breakfast

: French bread with margarine, sugary coffee or tea, crackers and/or cookies.

Lunch

: White rice and brown or black beans, salad and maybe a little piece of meat.

Snack

: Cookies and sugar-free powdered juice.

Dinner

: White rice and brown or black beans (usually reheated), salad, a piece of meat and maybe some fruit.
Doesn't sound like the glitz and glamour of the restaurants or full buffet at your restaurant now does it?
Don't get me wrong here; I love Brazilian restaurants and Brazilian food in general. I just don't think that it paints an accurate picture of what is really commonly eaten.
Brazilian cuisine is pretty simple and repeats itself a lot. From back home, you are probably quite used to the foreign influence on your local cuisine providing tons of variety, but this isn't so much the case in Brazil (although this depends on the region a bit and it is changing).
So if you aren't up for French bread for breakfast and rice and beans 2 times per day, you will have to learn to cook and make foods on your own.
Which is actually better then you would imagine!
Brazilian Cuisine 2: Ingredients
Though it's good fun and games to shop in Brazilian supermarkets, I have found a place that is much better and much cheaper.
I remember the first time I stepped into a sacolão (Portuguese for "huge bag"), a little over 1 real (about $.50) per kilo (2.2 pounds) for EVERYTHING! – Though with a few exceptions for leafy greens and imported fruits.
Imagine walking up to a huge pile of giant juicy mangoes and shoving them into a huge bag, piling fresh golden and silver bananas (a type of amazing banana that doesn't exist in the 1st world) into your cart.
Moving further along the isles you run into most of the vegetable and fruit items you are used to – but much more.
Star fruits, apples, watermelon, potatoes, tomatoes, manioc, giant honey papaya, pineapple, baby mangoes, oranges, onions, broccoli, sweet potatoes, cabbage, and more.
My first trip to the sacolão ended in me purchasing about 70 kilos of fruits and vegetables! (that's 150lbs)
And how much did I pay? About 80 Reais (around $40 USD).
I gave about half away to 2 poor families plus a bit to a guy asking for money in the parking lot and still had plenty left over to live off of for a whole week – for a family of four!
Talk about living like a king.
Here's a picture of one of my loads:
You see, Brazilian supermarkets have many good things and the prices are great if you are into traditional Brazilian cooking, but many of the things you would want are quite pricey and hard to find.
But I could care less after I discovered the sacolão!
if you ever find yourself in Florianópolis, Santa Catarina.
BTW: they have tons of organics and natural foods that I was used to from back home – for a great price!
How To Get Foods You Know From Back Home
Ok, so you still aren't convinced and would like to get ahold of some of the things you are used to from back home or maybe there are some things you just can't live without (did someone say good chocolate?).
There are a few of options that will work for you.
1. Buy Imported Food
This is the priciest option and that's because there is a high duty levied on anything imported into Brazil of around 60%, plus there is a middle man importing these items, high sales and operation taxes and profit margins.
If you are used to paying about $2 for a Lindt chocolate bar in the USA or Europe, then expect to pay around $6-7 in Brazil!
Yep, it's really that expensive for imported foods.
So I have a method that I subscribe to: I only buy things that I can't make myself (i.e. maple syrup) and use sparingly.
But to me, the benefits of the access to the tons of tropical fruits and vegetables (plus "green cow" meat if you are into that – all grass fed) outweighs it by far.
2. Make Your Own
So for anything that I can't find or am not willing to purchase, I just make it.
Preparing some "Brazilian cuisine" is more enjoyable then what you are probably used to due to the fact that Brazilians love to hang out while making food.
It's a cultural pastime: hanging out together and making food while you're at it.
Here are some ideas of stuff that I make myself:
American Pancakes (almost just as easy as buying ready mix)
Peanut butter (just roasted peanuts in a blender)
Rootbeer (buy some extract online and mix it with fizzy water)
European "Rye" bread (find a recipe online)
Recipes are easy to get ahold of, you could use for example.
3. Find An Immigrant Store
My wife hails from the Kingdom of Denmark and must have her dark north European rye bread for lunch every day.
Fortunately you could find this bread imported at many large supermarkets.
Unfortunately it costs an arm and a leg…
So we asked around and found a local store that was started by German immigrants specializing in German baked goods and natural health foods.
Here's the calling card for Casarão if you ever find yourself in Florianópolis, Santa Catarina.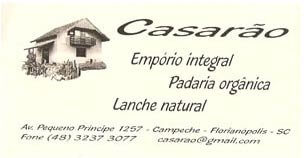 They had really well made fresh bread that my wife was used to for only R$3 per loaf (that's cheaper than in Denmark) compared to the $15 for it at supermarkets.
I had one happy wife on my hands.
The same goes for other foods, I've found Dutch immigrants who made amazing cheeses, juices and so on. I've found loads of Japanese immigrants and even had homemade sushi from a 2nd generation Japanese-Brazilian who had the recipe passed on to her.
Final Words
Staying long or short term in Brazil can be very challenging if you don't figure out how to make or get food that you are comfortable with.
After all, food is a huge part of who we are and very important to us.
My hope is that this post has helped you understand how to eat well in Brazil when cooking for yourself.
Hopefully it motivates you if are considering making the switch to Brazil or are already there and feeling a bit down about your food options.
Do you have anything you could share about food in Brazil?
Valeu – Cheers!
Kevin