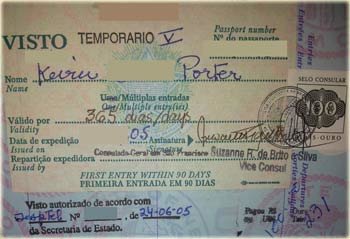 So, you want an easy way for living in Brazil for longer than 6 months but don't what types of Brazilian Visas let you? Let me see if I can solve that problem for you in this post!
I run into this type of scenario constantly: Chris travels to Brazil, spends 3 months there and loves it. He then goes to the and extends his Brazilian tourist visa for 3 months more. As the months go by he becomes desperate, he wants to stay but can't figure out what types of Brazilian Visas will let him!
After a 6 month love affair with the country he gets onto an airplane, feeling like he left his heart behind together with all the friendships and experiences.
Figuring out types can be a pain in the royal a-hole, and don't get me started on the waiting period… But not if you know some loopholes and tricks that I will now show you!
UPDATE: since writing this post, a lot of developments have happened within the visa area. Therefore, I've created an .
An Inconvenient Truth
The sad truth is that Governments don't really care how you feel; they only care about the rules that they put into place. And to be honest, most immigration rules are set based on visa (a smart way of saying "America makes it difficult for Brazilians, so we will make it difficult for Americans too!!")
The ugly thing about bureaucracy is that you are not the center of focus, BUT the one beautiful thing about bureaucracy (and especially in Brazil) is finding loopholes. So many rules contradict others that it would literally be impossible to follow them all!
I will cover 5 different types of visa "" scenarios and tell you how each one could benefit you in order to attain your dreams!
Disclaimer: any advice I give here is purely informational – use it at your own risk. I neither approve of nor am asking you to do anything illegal or against traditional wisdom… ESPECIALLY loophole #5! Ok, now that's out of the way

1. Get Married – Family Reunification
Have you met the person of your dreams? Or are you still looking for someone?
Either way, if you are considering marrying in the future and would love to marry a Brazilian, then you should seriously consider this option.
A. You Have a Brazilian Girlfriend or Boyfriend
If you already are together with a Brazilian and wedding bells could be a part of the near future, then by all means continue on that path!
After you are officially married, you can apply for family reunification based on a Brazilian spouse. This will grant you permanent residence and the option for citizenship after 1 year of permanent residence.
There are obviously a lot of details in this, but keep this one important rule of thumb in mind: apply for your visa at the embassy in your home country before moving to Brazil. We are talking about 3 months or so for the visa to get approved vs. up to 2-3 years if you apply through the Federal Police in Brazil!
B. You Would Like a Brazilian Girlfriend or Boyfriend
Well, well then… that's an exciting adventure! If you would consider marrying in the near future but have yet to find a Brazilian spouse, then don't worry, there are a lot of willing people out there and thanks to the Internet, it has become easier then ever.
Your best bet is to begin socializing with Brazilians at local gatherings or finding the right dating site.
For dating sites, I personally recommend BrazilCupid.com over the competition due to the simple fact that they are well established and have the most Brazilians looking for love out of any other site out there. This is because they make the site very Brazilian friendly as well as friendly for you, so there are plenty to encounter!
You can check them out by clicking here.
2. Have a Baby – Parent of a Brazilian Child
Yeah, you heard me right!
Even though I met my wife in Brazil, she isn't Brazilian. So we had a little dilemma, when my Volunteer Visa ran out, what were we to do if we were to continue living in Brazil??
We found a nice little loophole that won't be changed any time soon: any child born on Brazilian land is Brazilian by birth.
What's even better is that any parent of a Brazilian child can apply for permanent residence based on the child – despite their criminal record (not that I have one…).
So if you are not married to a Brazilian, then that's not an issue – consider having your next child in Brazil.
One of these days, I will write all about how we did it.
Tip: this type of visa must be applied for while you are in Brazil, you cannot apply for it from a consulate abroad!
3. Study Portuguese in Brazil – Student Visa
You are single (or not), would like to live in Brazil for a while or forever and need to learn Portuguese anyways right?
Consider enrolling yourself at a language school or University in Brazil offering to teach you Portuguese and give you a student visa at the same time.
It doesn't just have to be a language school though; it can be any accredited university, a non-profit or whomever that can offer a student visa.
You can find these types of programs all around Brazil all with varied durations and offerings.
is a good list of schools for you to take a look at.
As a rule of thumb, you will get a visa for around the duration of the school program itself, extendable if needed.
Tip: many universities/schools offering these programs charge a very inflated price, so shop around!
4. Volunteer in Brazil – Volunteer Visa
Of course you would like to volunteer – you have such a humanitarian heart!

This is actually the route I went with originally when I came to Brazil, the picture at the top right of this post is of my actual volunteer visa from back in 2005. I found an (ONG in Portuguese) that I liked and decided to enroll myself to come as a volunteer.
Any non-profit with a CNPJ (a Brazilian business number) can send you the required paperwork in order to apply for this type of visa.
It's duration is 1 year + renewable 1 year again for a maximum of 2 years.
The process was quite bureaucratic due to the fact that the Brazilian Consulate has to send all of the application paperwork to Brazil to get approved. It took me about 5 months from start to finish to get my visa in hands – the visa actually arrived via FedEx 3 hours before my flight!
Tip: be patient and realize that even though they say that this visa takes 2-3 months on their website, that it will probably take double that!
5. Down With the Rules – Staying Illegally
There are always a few rebels in the bunch who decide that they are just going to forget everything visa related and stay no matter what.
I have actually known TONS of people who have done this and kind of admire their passion and relentlessness!
Here is the typical scenario: Sarah stays for 3 months on a tourist visa, she then goes to the Federal police and extends it for 3 more months. The thought of leaving Brazil, everything and everyone she has grown so fond of behind is so devastating that she decides to just stay.
In many countries if you overstay on a visa, you are usually barred entry into the country for a number of years. Let me share the consequences in Brazil:
You pay an overstay fine of about $R8.50 per day upon exit (though the amount maxes out at around $R850.00)
As long as the fee has been paid, then there is usually no barring from entry, prejudice on getting any other type of visa etc.
Pretty no consequences unless someone is out to get you.
In other words, you could theoretically just stay in Brazil and when you decide to leave and come again, you would have to pay a "fine" (more of a fee) and be free to come back again.
There are some risks associated with staying illegal, and one of them is that if you take up illegal work and someone doesn't like it, then you could risk getting if they have a good friend at the Federal Police.
I actually knew a guy who did this, he got a job as an English teacher while staying illegally, the competing English school got wind of this and sicked the Federal police on him – he was given a week to leave.
Tip: If you end up getting married or having a child, then you can just change your visa status while in the country without having to leave.
Amnesty After Staying Illegal
Ever few years or so, the Brazilian Government gives amnesty to a number of illegals living in the country. It's the Government's way of "pardoning" people who really have made it their mission to live in Brazil forever.
How to Apply for a Brazilian Visa
Most all visas have to be applied for in your home country, except a couple (family reunification for example). I always recommend that you apply from your home country even if you have the possibility of applying from Brazil, this is due to the face that it is much quicker.
When I applied for my Brazilian volunteer visa…
It was a mess! The Brazilian Consulate was 2 states away and about a 15 hour car drive… I went to apply in person but it was a disaster! I was turned way and told to get more documents (that weren't even on the website), correct others etc.
Right…so I have to drive 15 hours, wait 3 weeks to get more documents from Brazil, and drive 15 hours again??
Applying for a visa to go to Brazil in America is a very painstaking process: the consulate doesn't respond to your calls and e-mails, they don't inform you of what is going on, can be very rude and you have to drive for hours and wait in a 3 hour line to even approach them – how much is your time worth? Mine is worth more….
Finally light at the end of the tunnel
I soon found out that you could pay a Brazilian Visa Agency to do this for you. The only problem is that 99% of them only do Tourist Visas, Student Visas and Business Visas – none of them would help me with my volunteer visa, they knew how bureaucratic it was!
After a lot of trying and calling around, I finally found a Visa Agency that covered all jurisdictions and ALL types of visas – this is the only Visa Agency in America that does this as it requires them to have an office next to every single Consulate in America.
A friend of mine one time tried a visa agency that said that they could do all types of visas, in the end he called them pretty much daily – he was so peeved but then again they would never respond, so I understand him.
And it is really important that you choose a trustable visa agency! They will be your life-line while you are waiting on your visa.
Final Words
Are things starting to make a little more sense? That is my hope!
These 5 different loopholes are the most commonly used for a reason, they will get you to Brazil the fastest – but obviously each person has a different need and my hope is that one of these 5 will suite you.
The biggest and most important piece of advice I can give you is to keep your eyes fixed on your goal and find a way to get there! Don't accept anything less, where there is a way, there is a will.
Do not be defeated, pursue your dreams and I will do my best to help you attain them!
Valeu – cheers!
Kevin
P.S. since so much has changed since writing this post, I've decided to address visas more specifically in .