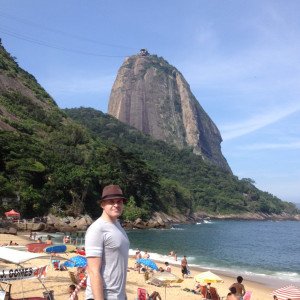 The second post in his series on Moving to Brazil, reflects on lessons he's learned so far from his first month in the country.
Today marks one month since I arrived in Brazil. In some ways it feels longer than that, and in others it feels much shorter. But in that time, I feel like I've managed to accomplish a lot. I've become accustomed to driving on the right hand side of the road, I've found a great apartment and am now in the process of furnishing it, plus I've managed to get some decent internet in my place, which means I can work! I've also squeezed in a few trips to the beach, so all in all, not a bad first month I reckon.
Firstly, Florianópolis: what a lovely place to be. When I left London, I deliberately wanted something that felt entirely different – quieter, smaller, easier. Floripa feels like all of those things. I wanted to be able to drive myself around instead of being stuck on the tube. I wanted to be able to cross over into the world of online freelancing in a place where I could actually afford to live. I wanted to be able to wear flip flops. (It's all about the simple pleasures.)
Here are some initial observations and things I have learned so far.
Stick to your guns
Is it sad that I felt really proud of myself when I was finally issued with a
CPF
? I know in reality it means I am part of the bureaucratic Big Brother machine, but I still felt a tiny bit of satisfaction when they put it in my hand. One thing I have learned is that you have to stand your ground when it comes to bureaucracy. If you know you're entitled to something, but someone is telling you 'no', push back. The woman at the front desk at the Receita Federal basically told me that tourists can't get CPFs. But I persisted and asked to be given a ticket to wait in the queue and ultimately, it paid off.
Everyone loves dogs
When it comes to making friends in a new city, I have a tip for you – buy a dog! Or at least borrow someone else's. I have a new puppy named Kovax, a miniature dachshund, and he is stealing hearts all over the island. While I am still very much a novice when it comes to Portuguese, having a dog is a good way to find yourself in constant conversations with total strangers. When it comes to dogs, I have learned that everyone basically asks the same questions: "Ele é um filhote?" (Is he a puppy?) "Como ele se chama?" (What is his name?) And of course, he is showered with cute expressions like "Que lindo!" and "Bonitinho!" He's a wonderful little ice-breaker.
Hang in there while househunting!
In Florianópolis, arriving in high season (November – March) and trying to house hunt isn't always the best idea, mainly because the island is full of tourists and most landlords are renting out their properties at exorbitant daily rates. I spent weeks searching for a property and had a few scary moments where I genuinely thought I was never going to find a place to live. Now that I have, my advice to you would be: when househunting, wait as long as you can until you find a place that feels right. There were some properties I went to see that I didn't really like – the landlord felt pushy, the location was wrong, they were asking me to pay 6 months' rent upfront – and because I was so worn down by the drudgery of househunting, I was tempted to just give in and accept what was on the table. Now that I have found a place that I love (with the landlord from heaven) I am so glad that I waited.
If you can drive in Brazil, you can drive anywhere
My adjustment to driving on the right side of the road has come with a few hair raising moments, including driving down the wrong side of a street at night and only realising when a bystander yelled out 'contramão!' However, there are a couple of other things that might take some getting used to, such as enormous potholes or fast hordes of motorbikes. Always make sure you do your blindspot checks! And if you're stuck in a traffic jam, you better not be halfway through changing lanes, because you may lose your side mirror from a pushy rider (fortunately the side mirrors bounce back on the rental car I have been driving!).
On some streets, particularly around bars and restaurants at night, you may find guys telling people where to park their cars, even though it's just regular, free on-street parking. These people will watch over your car while you're gone and expect a tip in return. I haven't found out what happens when you don't tip… yet.
Also, there are some roads in Floripa that are so steep, I can't even imagine how they were even made. All part of the fun.
Some things work better here
Brazil is notorious for things not working properly or being laborious, so when you find things that work well here, it's a pleasant surprise. Where I live, our garbage appears to be collected almost daily (although there's no recycling). Once I found a great landlord, renting was a piece of cake – just one month's deposit, a month of rent upfront and signing a contract at the cartório – that was it. No credit checks, no references, nada. I am finding that credit and debit cards are accepted in all sorts of places that you wouldn't expect – from the pizza delivery man to the guy renting sandboards at Lagoa da Conceição. Perhaps it's just Florianópolis that is like this, but I was impressed all the same!
Be kind to yourself
It's not easy to move to a new place, there is so much to do, so many things to organise. Even after a month, my 'to do' list is still long! I have been extremely lucky to have a Brazilian by my side who can say the right things at the right times – to help me get the good deals, to stop me getting the run-around, to help me make sense of things. It really has made all the difference! If your Portuguese isn't up to scratch, then try to get some help from someone in the know. It's one thing to not understand what's going on around you while on holiday, but when you are setting up a new life here, it's a different story.
Don't let other people's negativity get to you
While I am eternally grateful to the social media communities that have connected me with other gringoes in Brazil, I think you have to learn to ignore a lot of the negativity that can come with these groups. I've found a few bitter and twisted types endlessly saying things like 'Don't come to Brazil! It's terrible! You'll regret it!' There are also those who have a few years in Brazil under their belt and they love to remind you that you don't know as much as they do. "Oh really, you've never even heard of that?" Honestly, learn to let this stuff pass you by. Everyone is different, why should any two experiences of Brazil necessarily be the same?
Now that I have sorted out the basics, the next items on the list include , getting a student visa and buying a car.
Wish me luck!
Making the move to Brazil? .
Read more in the series: