What if I told you that you could easily live in Brazil and study Portuguese 4 hours a week from a known University?
You would get to stay in Brazil on a student visa, learn the language you already want to and extend your visa as many times as you need!
This is known as the "Secret Permanent Residence Visa" and is easier to get then you think.
Let me bring you through the step-by-step help so that you can get closer to your dreams.
But First, A Little "WHY"
Yesterday on my Facebook page, I asked the following question:

And to my surprise, I got the following answers right away (the name "Jonathan IfeelReally White" still cracks me up!):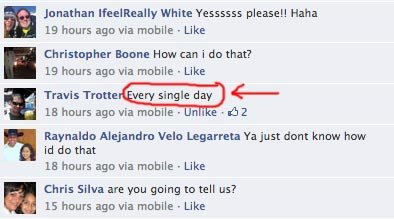 What stood out to me was Travis' answer (highlighted above). Having gone through this myself, I can really identify with this feeling of wanting and needing to move to Brazil. Carrying that feeling around on a daily basis weighs on you and makes you feel as if you are missing your full potential.
So I officially dedicate this post to you Travis!
How Does a Student Visa to Study Portuguese Work?
Traditionally, a student visa is given to a foreigner who is accepted by an accredited Brazilian University to study under an undergraduate or graduate program.
The university would then send you a notarized letter of acceptance that you would bring to the consulate in your home country and apply for a student visa there.
This would mean that you would have to study full time and be enrolled full time ($$) at a Brazilian university.
That's a lot of time and money if you really only want to learn Portuguese and live in Brazil…
These same universities offer Portuguese for Foreigners
Fortunately, these same big-name Universities in Brazil offer Portuguese courses for foreigners at the normal student rate.
And since the main requirement to get a student visa is that you are enrolled at a Brazilian university, these Portuguese courses can be done on a part time basis.
This is a win-win situation as it's cheap and easy for you to get a student visa, and the University makes a bit of money by "hooking you up".
Oh, and this student visa is easily extendable from within Brazil as long as you are enrolled in the class!
How do I find a University Offering Portuguese Classes
Let me guide you through the steps in finding a University offering Portuguese classes:
Find a known Brazilian University ()
See if they offer Portuguese for Foreigners.
Contact them to let them know you are interested and to start the process of enrolling you.
The university will send you a package of paperwork that you will need to fill out and send to them.
After the initial fee for the course has been paid, they will send you a notarized letter of acceptance, which is what you will use to get the student visa from your local consulate.
Cost, duration and Other Requirements
You can expect to pay around R$2,000 for a 4 month, part time course (4 hours a week) – which is around $1,000 US dollars.
You can then re-enroll each semester as long as they allow and then extend your Student Visa.
Important "other" requirements
Be aware that some universities will only give you Portuguese classes if you are enrolled in their other study programs.
And on the other side of the spectrum are universities that require that you have some type of degree to enroll in the classes, though there are exceptions.
If you enroll at for their Portuguese for foreigners class, they don't require you to have a degree and the price is very reasonable (around R$1,700 I believe).
How To Apply for a Student Visa
Once you have signed up for your Portuguese for foreigners course, the University will send you a notarized letter of acceptance.
This notarized letter of acceptance (which will probably take a few weeks to arrive) is what you will use to apply for the Student Visa IV from your home country – you are not allowed to apply for this visa from Brazil.
Here are the main documents you need to get the visa:
The notarized letter of acceptance showing your name, duration of the class and hours.
Proof of financial means showing that you can support yourself (around $2,000 a month for the duration of the course) or have someone support you (think: a parent's bank account statement with that amount in it)
Your flight itinerary showing the departure and return dates (it doesn't have to be the actual tickets, it can be just an itinerary from a travel agent.)
Background clearance showing that you aren't a criminal.
Proof of Residence which can be a drivers license.
There are other forms and simpler documents you will need to submit, you can check those out on (affiliate link).
Note: I recommend using Travisa if you reside within the USA, they will do good by you and make your life easy!
Once you have received your visa, you must leave within 90 days, the visa clock starts ticking as soon as you arrive in Brazil.
Quick Tip: the entire process of applying for a student visa can take between 2-3 months, so make sure you give yourself good time.
Renewing Your Student Visa
When you first get your Student Visa IV, it will be for 1 year by default and you can expect the consulate to write a new number in the "prazo" field which covers your course and maybe a little bit more.
This is to keep people from just signing up for Portuguese classes and then dropping them.
So what you do is after your Portuguese course is coming to an end, you sign up for the next semester's classes.
Then take this next letter of acceptance to the Federal Police and have them renew your visa from within Brazil.
You can expect to get a 6-month renewal per time.
Final Words and a Must Know Advice
If for some reason you are having difficulty finding a University that will accept you, then think about some private schools.
These can be language schools that offer Portuguese for foreigners (like the English schools that Brazilians go to), some of them can give you a letter of acceptance.
And lastly, if you need more inspiration about a student visa from someone who has been there and done that, then I would recommend that you check Joe Naab's book.
In his book, he not only covers how he obtained and lived on a student visa for a long time, but also other important aspects of living in Brazil. So make sure you check out his book Brazil for Life (affiliate link).
Do you have any experiences or questions to share about a Student Visa? Please comment below.
Valeu – cheers!
Kevin