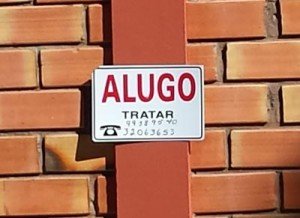 Today, I'm going to teach you how to rent any house or apartment you want, even if you're a foreigner.
"Kevin, how can I find a house or apartment to rent in Brazil?"
This is one of the top questions that people ask me and it's time to show you exactly how I have been able to not only secure house and apartment rentals for myself, but others too (note: even on a tourist visa!).
And there are 3 ways that this can be done
Private rentals (owner to you)
Imobiliária (owner – agent – you)
Temporary (owner or company to you for a few months)
So without further ado, let's break these three options down for you!
1. Doing a Private Rental
Your first option when looking for a house or apartment to rent in Brazil is to go after a private rental.
A private rental is where the owner themselves rent the place out and are responsible for the whole procedure. The advantage of this is that you can work with them to be flexible with your situation, negotiate the price and so on.
This is a great option for people coming on temporary visas hoping to upgrade visa status in the near future

Why? Because any rental agency will require either a co-signer, huge deposit or strong work history – more on that in option #2.
Where to find private rentals
The first thing to do is to obviously find a place to look, right?
Let me tell you exactly what I do for myself and any client I'm assisting who is relocating to Florianópolis.
I look on sites like or
These are classified sites where people will post their house or apartment for rent together with pictures and descriptions.
Check out a post I wrote on how to use vivastreet.
It functions in many ways the same as we know Craigslist.org to do in the USA, where you can browse houses and apartments based on the date they were posted.
Within the ad, you should be able to get some of the basic information you need to compare places.
I look in local papers and bulletin boards
This is where the "hidden gems" usually are. Brazil is without a doubt an up and coming country, and with the whole up and coming process comes people who are "late adapters" per se…
These are people who haven't quite caught on to the Internet yet, online classifieds etc. So what they do is to either publish them in the local newspaper or they will create a hand written note and put it in the local bulletin board, in the nearby shopping center.
This is almost always the first place I go when looking for a rental (that and word of mouth of course, another good place to look!) as many people don't think about going there.
What to do after you find a private rental
What are the next steps once you've found something that interests you?
Call them (or have someone who speaks Portuguese call)
Arrange an appointment to look at the place if it's interesting
Ask details about tax, electricity, water, condomínio (a fee you pay if you are in a condo or apartment) etc
Note: confirm the price first! If they smell gringo, it could mean a gringo tax could be levied…
One thing to know is that in high demand areas like Florianópolis, houses get rented out like hotcakes (and the renters know this). So it's a very good idea to be able to make a decision quickly unless you have time to spare.
A client (and friend) of mine who I was helping find a place around the Lagoa da Conceição area, had a house rented out from right under his nose. We were literally 1.5 hours too late in calling them to confirm that he wanted to rent the place, so in the mean time someone came and swooped it out from under him.
This is also because the price of the house was at a "popular" level increasing the demand in an already sought after area.
Deposit, Contract and payment
After you decide to rent the house, there is usually a standard 2-3 month deposit expected, a contract signature (with signatures verified at the notary public "Cartório") and payment to be made.
One very important thing to know, is that the owner of the house is required (by law 8.245) to place your deposit into a separate savings account. Any interest earned within the owners savings account during the rental time is also yours too.
It's a good idea to have some cash ready when you are ready to sign the contract as a "sinal" because many claim that they will rent, though it's not always true that they are honest. So some homeowners choose to rent it to the first who can "show them the money".
Note if you are making a transfer from abroad: give the transfer about 8-9 days to arrive into the owners saving's account (even though your bank says 3 days) though if you are making the transfer from the USA, can have it into the account within 24 hours!
Update: I've been informed by a reader that it's best to go through for the deposit and not the owner's (risky) bank account!
2. Doing a Temporary Rental
Let's say that you are only going to stay for a few or more months. Instead of staying at an overpriced hotel, you would like a little apartment or something that you could call "yours" for the time being.
The best option is to look for what is called "alugar temporário" (temporary rental), there are many options out there and all you have to know is where to look.
Where to find temporary rentals
The best places to look for temporary rentals is always around the touristy areas. This is usually beach destinations like Rio de Janeiro, Santos, Florianópolis etc as there is a huge flux of tourism during the Brazilian summer (December – January) and Carnival holidays.
What I do to find them is to check out and as some "pousadas" (like apt-hotels) will post monthly rentals (look for "aluguel mensal") there.
Another place to look is in the bulletin boards like above and finally the actually pousadas themselves.
What I usually recommend and do myself, is to go for a drive around the area they would like to stay in and look for different houses, apartments and pousadas around the touristed areas and literally stop the car and ask the manager if they have any monthly rentals available!
This is really the best way in my opinion as they don't always advertise and this gives you a competitive edge over other people looking.
What to do after you find a temporary rental
Once you've found a place that you like, it's just a matter of telling them how long you would like to stay and paying the first month.
Take a look at the place, take pictures to note the state and make sure to check if everything is there.
They will usually come furnished if they are temporary and the furnishes will vary in level depending on the quality of the pousada, house or apartment. Don't count on there being a washing machine though, you'll have to get one yourself.
Deposit, contracts and payment
When taking care of the paperwork, it's pretty easy. You only have to fill out a piece of paper and sign it, then give them your first month's payment.
You will then pay every month after that unless you agree on paying a lump some for your entire stay at a discounted rate.
Be aware that if you are abroad and wanting to rent something, that they usually require a 50% down payment (this is normal) wired to their account – I usually prefer just doing it in person.
3. Doing an "Imobiliária" Rental
Another viable and permanent option for renting a house or apartment is to go through what is called an Imobiliária (real estate agency). This is where the owner of the house or apartment asks an agency to help them rent it out and take care of all the details at a commission.
This basically means that you check an agency's website in the area you are looking for to see if you can find something interesting. After you have found something you would like to check out, they will setup a showing and take it from there all the way to the end.
This is definitely the most secure way of doing things as they have a reputation to maintain and usually do things more by the book. I've both gone the private and imobiliária way and would have to say that you get the most peace of mind when someone takes care of it for you – though their renting requirements are much more strict then renting directly from an owner.
Where to find a real estate agent
The first step I take is usually to ask someone that lives in the area you are looking at moving too. If that isn't an option (or just one of) then try going to and typing "imobiliária (insert city name)", you should then get a list of Google results showing the agencies that deal with houses and apartments in the area.
Here are a couple examples of agencies in Florianópolis:
(in the city center)
(In the Trindade area)
Their websites are usually pretty intuitive with a great presentation of the property, where you can see all of the details, a picture portfolio, price and so on.
Once you've find one that you like, contact them about more details and a showing. If the house isn't for you, ask if they have anything else you haven't seen as they can generally call in favors from other agencies in the area.
What to do after you find a house
After you've found one, go out and take a look. Make sure you you take good notes of the condition, different elements as the agency will be the intermediary to help you after you rent it, but it doesn't mean that the house is in great shape.
I actually had a friend rent a place where the water heater was broken from the get go, so they had to get the agency to get the owner to fix it. This is probably easier then going directly through the owner as they have more pull, influence and are used to this kind of thing.
Deposit, contracts and payment
Once you are ready to rent the house, the agency will expect you to show:
Proof of income
2-3 months deposit
Note: if you agree to pay a year up front, you can usually get a discount on the rent!
Now, if you don't have any proof of income that functions in Brazil or a co-signer (usually where us foreigners get stuck), there is a way around this and that is to put a larger deposit down.
I've seen this in several different ways, either they ask for 6, 9 or 12 month's payment (depending on the agency) to offset any risk in dealing with someone that has proven to be trustworthy yet.
So this is quite normal and nothing to be scared of when they ask for that much in deposit.
After you have signed the contract with them, this will serve as a proof of residence, which you will need to get everything else done.
Final Words
Now that we've reached the end of this post, you should have 3 really great options to rent a place for yourself – they should cover every basis.
My main piece of advice for you when finding a place is to remember that where there is a will and persistance, there is a way.
Have any good information to add about renting a place?
Valeu!
Kevin
P.S. don't forget to for new posts