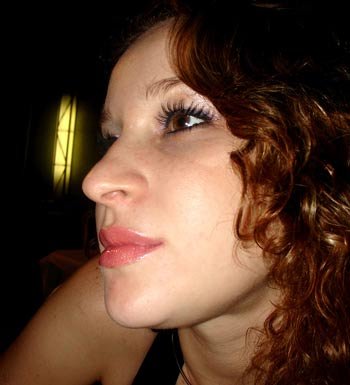 Today, I am going to show you where to go to find single Brazilian women online and give you some essential dating tips (I should have followed back in the day) once you find her.
If there is one thing that Brazil is known for, it's the beautiful life-loving Brazilian Women. And if there is one thing that Brazilian women are known for, it's that they love the idea of meeting foreign men (nudge, nudge!).
Lucky for you, modern technology allows you to find a possible Brazilian partner easier then ever.
A little warning: dating Brazilian women can eventually lead to a paradisiacal lifestyle in Brazil, so read with caution!
So what if you are not in Brazil and would like to find a lovely Brazilian to date, where do you go and what do you need to know?
Finding Brazilian Women to Date Online
Thanks to modern technology you can easily find a Brazilian woman online who is already looking for a foreigner.
I use a fishing metaphor for this (sorry ladies, it's not meant in a sexist way).
If you would like to catch a nice big fish, do you put your fishing line in the middle of a clear lake where you can't see any fish and where they aren't biting?
No way…
You put your line in a place where you know they will be hungry and you know they will be hanging out.
This way you are sure that you attract out the pre-motivated ones that are ready for what you have to offer.
But where do you look?
The Best Online Dating Site
If you are willing to invest a few dollars, then definitely go with BrazilCupid.com.
Why? Because they have used their resources, network and advertising to gather as many ready to bite (pun?) Brazilian "fish" (women) as possible in one location so that you could theoretically stick your line in and catch one.
No other dating sites out there offer this amount of single Brazilian women to date!
Here is a video showing some of the women from BrazilCupid:
Note: I didn't make it, so there is no guarantee that it wont be a bit "over the top"

Signing up for an account is free and it allows you to browse all profiles and access all info about the Brazilian women.
All you have to do is enter your basic information and begin searching: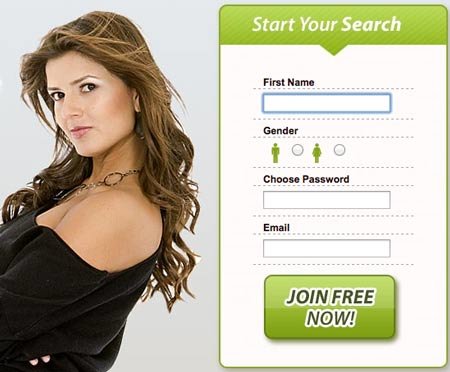 By signing up, you can get a great idea of what the women are like in there and give it a little test run for free.
Here is an example of a profile: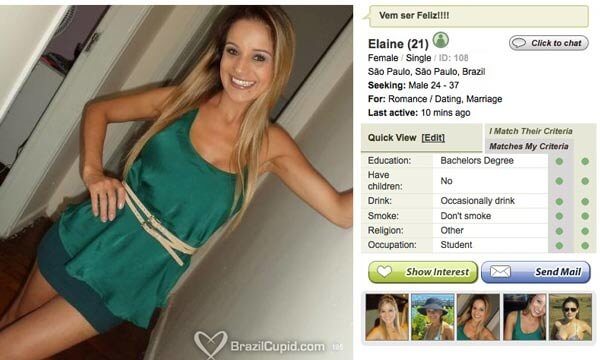 You are able to match your criteria with their's and find people who you best identify with.
Then you can take the next step to check their interests out, read their entire profile and see their pictures.
The only catch is that to contact any of them you will need a premium account – but others with a premium account can contact you.
Fortunately, that's a bridge you could cross if needed and the price isn't bad compared to other dating sites (especially considering that it's specifically for finding Brazilians!).
Either way, BrazilCupid is worthwhile signing up for even if you don't plan on buying a premium account as you can get a good feel for what it's like and get to know Brazilian women's interests and likes – or just sit and gawk at pretty ladies.
You can sign up right here (affiliate link)
Free Options
You can find single Brazilian women in other places for free, but like in my fishing analogy, you wont find them in one spot ready to be lured out.
And this means that you will have to do some digging, seeking and asking – more difficult then the above suggestion but possible.
I would recommend that you do some networking on Facebook or see if you can find some fan pages on Facebook where you know that Brazilian women will be. For example: Brazilian women looking to learn English.
This requires that you go through the: hey you're attractive and interesting, do you have a boyfriend? Process a bit until you find one that is interested.
Brazilians are natural networking people, so if you keep asking around and looking, you will eventually make a "catch".
Must Knows for Online Dating
There are of course some precautions you should consider taking when searching for Brazilian women online.
1. Watching out for "passport" diggers
Think about it, you are a beautiful Brazilian woman and you have no huge opportunities in front of you, what to do?
Use your good looks and charm to secure yourself a middle class (rich for a Brazilian) foreigner who can get you into the 1st world.
I'm not saying that this is always the case, but it does happen.
These types of women usually reveal their intentions pretty quickly: they are aggressive, pushy (in a charming way) and want to get down to marriage business fast.
So if she is talking about wedding bells and moving abroad from the get go, be careful.
But no worries, there are plenty of wonderful Brazilian women out there who aren't after your pocketbook or passport.
2. Giving it time
The biggest piece of advice I can give you when dating online is that giving the relationship time to develop is essential for its success.
This is true for any relationship but especially for a cross cultural, long distance one.
Yeah the beginning can be a lot of fun where everything is rosy and nice, but if you find yourself saying "she is just perfect, I love everything about her", then the relationship still may be in its baby stages.
I had a man once tell me that true love is being able to see your partner's faults that no one else sees, and choosing to love them anyway.
This is the truth to a long a successful relationship; give things enough time to be able to see the person for who they really are and not for an "idealized" version of them on the Internet – faults and all.
I mean, are you sure that you are chatting with a 29 Y/O attractive Brazilian woman and not a 54 Y/O male having a good time?
I'm joking of course….
Final Words
I hope that this post was helpful for you men looking to find a Brazilian woman to date online.
And like I said, BrazilCupid is the best for your buck, but it can be done for free with a little more elbow grease and forehead sweat

Do you have any Brazilian dating wisdom you could share below?
Cheers – Valeu!
Kevin